Application Process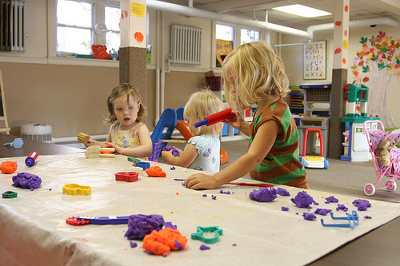 The application process is designed to help you get to know the group and how we interact with each other. During the school year, you also will see the Cooperative in action. The Kids' Cooperative is always taking applications. Throughout the year, it is possible for current families to leave and an opening to become available. We maintain a waiting list and contact families as soon as there is an opening. The membership process is on a first-come, first-served, non-discriminatory basis. We contact families in the order in which they appear on the waiting list, then request if the family is able to fill the opening. If the family is unable to join at that time, we contact the next family on the waiting list. If you are leaving town or move, you must contact Kids' Cooperative Recruiter to update your information. Families that are not reachable within a reasonable time are by-passed and the next family on the list is called.
Step One: Meet the Kids' Cooperative
Families schedule a date and time with the Kids' Cooperative Recruiter. We encourage parents to come with the children who will attend (siblings are welcome at this time as well).
During the school year, available appointment dates are Monday through Friday, 9:30 AM to 12:00 PM.
Step Two: Apply
If you are interested in applying to the Kids' Cooperative, please complete the Application and return it to the address provided with a $30 non-refundable application fee.
Step Three: Become a Member
If you are contacted to join as a member, the recruiter will mail you all necessary documents. Please complete the medical emergency form and return it to the address provided. Please include a $100 non-refundable deposit to hold membership. This deposit holds membership for the coming year and is applied toward the first semester's tuition rate as listed below. Even returning members make a tuition deposit. Should a member cancel membership prior to the first day of Coop in September, this deposit is forfeited. In mid-school year, a pro-rated fee will be paid instead of a deposit.
Tuition may vary year to year but is around $500 a semester. The total is $600, of which $100 is refundable. $500 is the tuition. $100 is the meeting deposit. Please note that the $100 meeting deposit will be refunded when meeting attendances have been met, and is not the same as the $100 non-refundable deposit which is for holding membership. The budget is based on the expected tuition.
You will receive an invite via email to join the Google Group, Drive, and Calendar. Once you accept the invites, you will have access to all of the member documents. Please review these "must-read" documents before your first day of Coop: Evacuation Plan, First Aid Document, Policies and Procedures, and Typical Day.
Thank you for your interest in Kids' Cooperative Cambridge. We look forward to getting to know you and your family.
Sincerely,

Kids' Cooperative Recruiter